Our Fleet
We believe in providing our partners with EMS aviation solutions that meet their program's specific needs, and Med-Trans offers the best single and light-twin platforms in the industry. All of our aircraft come equipped with state-of-the-art safety equipment, including: night vision goggles, enhanced vision systems, radar altimeters, GPS navigation, satellite tracking, terrain alert warning system (TAWS) and traffic collision avoidance system (TCAS).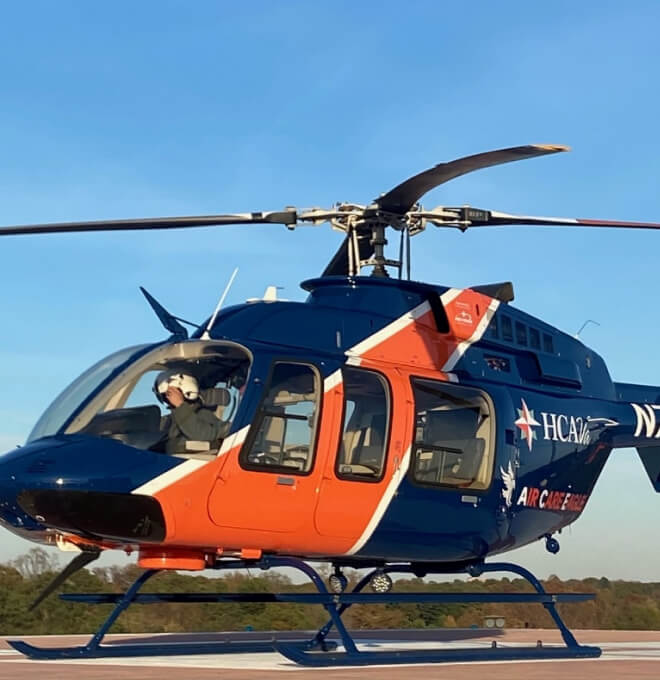 Bell 407
The Bell 407 EMS helicopter strikes the perfect balance between performance, reliability and mission flexibility, ideal for the precarious nature of your job. A smooth ride is essential on your mission, and you'll get that and more due to the all-composite, four bladed rotor system that also provides excellent hover performance and speed. The 407 is ideal for extreme environments: high altitudes, cold weather conditions or even the hottest locales.
Featuring a quick and easy patient loading and unloading provided by a standard bi-fold door with a 61-inch (155 cm) opening. The Bell 407 offers an expanded safety from the FADEC (Full Authority Digital Engine Control) engine fuel management system, superior reliability provided by the proven Rolls Royce 250-C47B turbine engine and enhanced crash-resistance stemming from a robust cabin design and a rupture resistant fuel system.
Quick Facts
Expanded safety
Superior reliability and payload capability
Average cruise speed 150 mph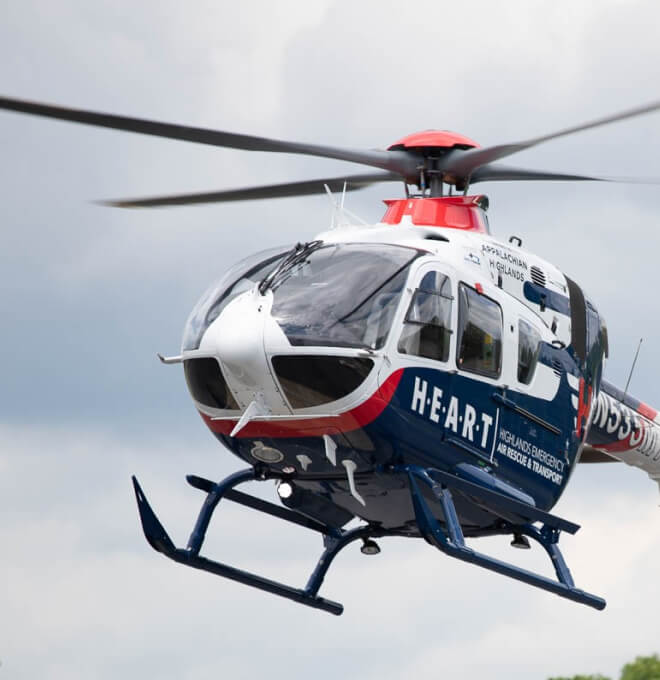 H135
The H135's aerodynamic fuselage, constructed from the latest composite technologies contributes to its excellent speed and range. The unique Bearingless Main Rotor and innovative Low Noise Fenestron tail rotor system offers outstanding maneuverability as well as an exceptionally smooth and quiet ride.
This new generation of light-twin EMS helicopters was developed in close cooperation with doctors, rescue experts, designers and engineers and in compliance with the strictest guidelines. The H135 demonstrates its high standard and flexibility for the air medical industry and includes dual patient transport capabilities. Considered the most versatile light twin in the HEMS industry today, this rear loading platform through spacious clam shell door design allows for patients of all ages, sizes and acuities.
Quick Facts
Advanced rotor-wing technology
FADEC system for state-of-the-art performance, safety and fuel efficiency
Dual patient transport capabilities
Developed in cooperation with doctors and rescue experts
Average cruise speed 158 mph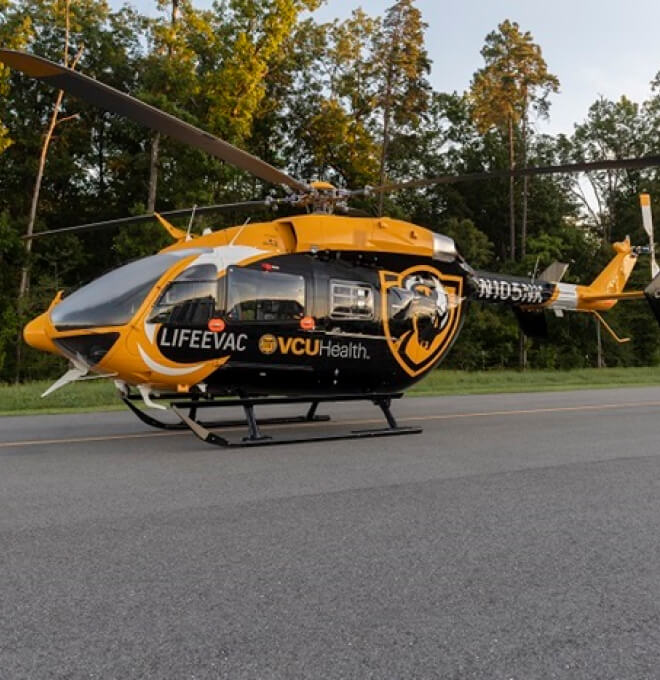 EC145e
The EC145e offers multi-mission capability in a medium-class, twin-engine helicopter. It has made its mark in the U.S. market, particularly among air medical service operators – winning competitions based on the aircraft's speed, advanced glass cockpit, extra-large cabin and exceptional visibility. With high-set main and tail rotors, the EC145e ensures safe ground operations, even during "hot" loading/unloading with blades turning.
Quick Facts
Max weight: 7,903 lb (EC145e), 8,047 lb (EC145e T2)
Capacity: 1 or 2 pilots + up to 9 passengers
Powerplant: 2 Turbomeca Arriel 1E2 (EC145e), 2 Turbomeca Arriel 2E (EC145e T2)
Fast cruise speed: 133 kts. (EC145e) 134 kts. (EC145e)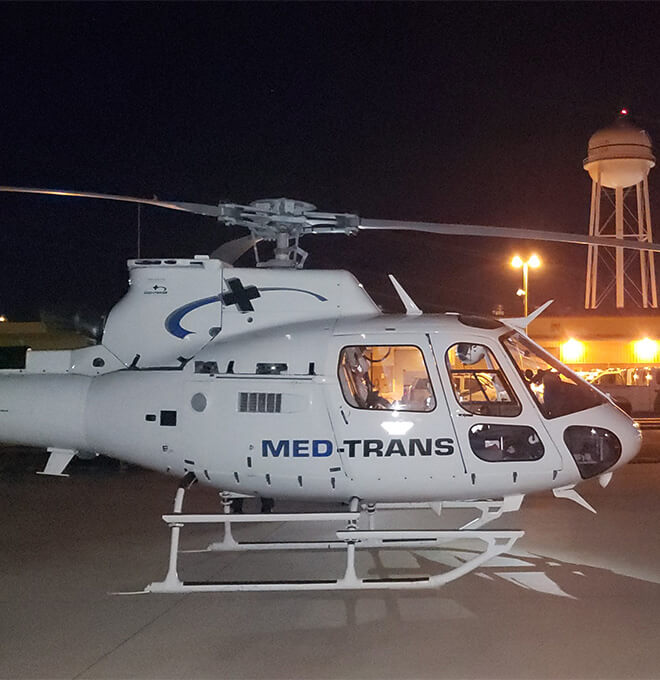 H125
The H125 is a single-engine helicopter known for its performance and versatility, while excelling in high and hot and extreme environments. With hundreds of supplemental type certificates (STCs), the H125's cabin has a flat floor that can be quickly and easily reconfigured for various missions, including firefighting, rescue and passenger transport.
Quick Facts
Max Speed 155kts
Fast Cruise Speed 140 kts
Normal Cruise 122 kts to 128 kts
Max Altitude 23,000 ft.
Max Range 340 NM
Fuel 143.7
Max Endurance (SL) 4 hr., 30 min.
Temp Limits -40° C to ISA+35°C
Max Gross Weight 5225 lbs.
Max Payload 2151 lbs.
Cabin Height:4 ft. 26 in.
Cabin Width:6 ft. 14 in.
Cabin Length: 6 ft. 56 in.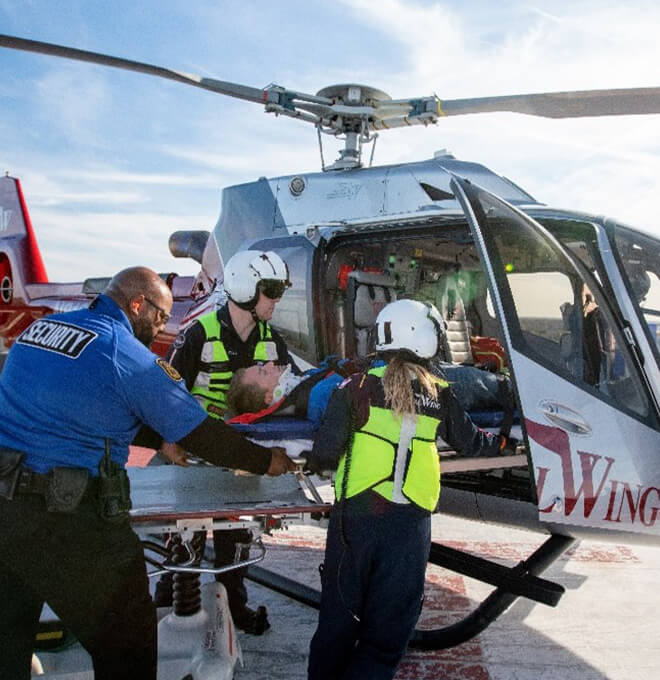 EC130
The Airbus EC-130 is a single-engine light-utility helicopter. The EC-130 was first produced in 1999 and has gone through several variants since its first introduction. The most recent version, the EC-130T2, is widely used by EMS, police, news gathering, sightseeing, commercial fishing and private ownership.
Quick Facts
Min Crew: 1 pilot
Medical Crew: Max 3 crewmembers with 1 patient or pediatric Isolette
Capacity: Up to 7 passengers depending on configuration
Length: 35 ft.
Height: 10 ft. 11 in.
Empty weight: 3036 lbs.
Max Takeoff Weight: 5512 lbs.
Fuel Capacity: 142 US gallons
Powerplant: Safran Arriel 2D turboshaft engine (950 HP)
Rotor diameter: 35 ft. 1 in.
Max Speed: 155 kts
Cruise Speed: 128 kts
Range: 327 NM
Max Endurance: 4 hrs.
Service ceiling: 23,000 ft.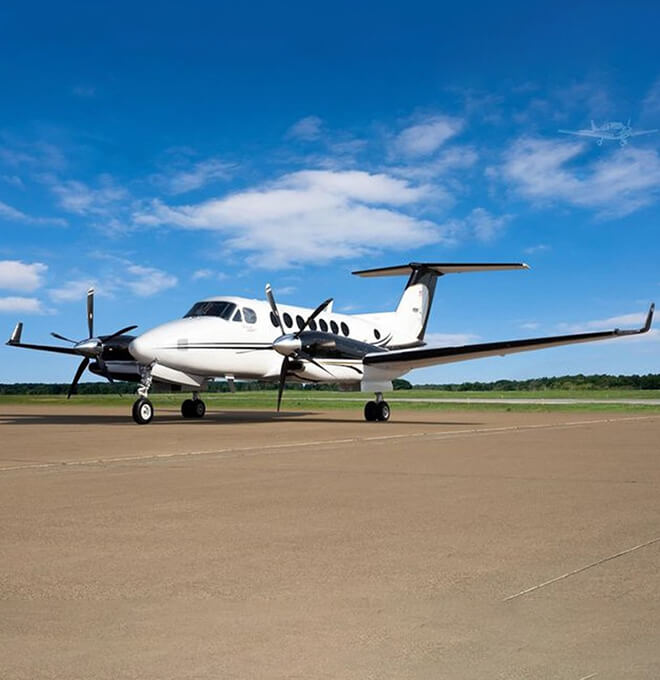 Fixed Wing Aircraft
The Beechcraft King Air B200 is a high-performance, pressurized twin-engine turboprop aircraft. The B200 was first introduced in the 1970s and has gone through several variants since its first introduction. The structure is an all-aluminum low-wing monoplane with fully cantilevered wings and a T-tail empennage. The wings are an efficient, high-aspect ratio design. This provides low drag a cruise and easy handling at low air speeds. These characteristics make it ideal for small/unimproved airport operations. The versatility and reliability of the B200 continue to make it a popular choice for wide variety of missions.
Quick Facts
Cruise Range: 900-1000 nm
Cruise Altitude: 27,000 feet
Cruise Speed: 280-310 MPH
Patients: 1
Medical Personnel: Up to 4
Bases: 21 Locations
Area of Operations: US – Domestic
All fixed-wing aircraft are operated by our sister company, EagleMed, LLC.